How to Use Videos to Promote Your Business
6 out of 10 people like watching online videos over watching TV.
Mobile video consumption increases by 100% every year.
92% of mobile video content consumers share videos with others.
These statistics have been making rounds on the internet for quite some time, and you probably know how popular videos are among viewers of all age groups. But did you know that businesses and marketers can use this popularity to their advantage?
Videos can help you improve your search ranking and increase customer engagement. Not only that, a persuasive product introduction video can help your leads make a purchase decision in your favor. But how do you effectively use your brand videos to boost the overall performance of your business?
That's what we will discuss in this blog. So, let's jump in and learn:
The power of videos
Before we get into video marketing, let us discuss a little more about the power of videos and how you can utilize it.
Today YouTube has more than 2 billion users worldwide. These users browse various kinds of entertaining, educational, and informative videos throughout the day. In fact, internet users spent about 7 hours watching online videos each week.
Apart from YouTube, there are other video platforms and social media platforms where videos are consumed in large quantities. These video and social media platforms let users discover your video via their apps and websites. You can also embed the videos on your website, social media posts, etc.
Overall, this will increase your chances of getting found. Now let's explore how you can place your video to get maximum exposure.
Video Marketing Ideas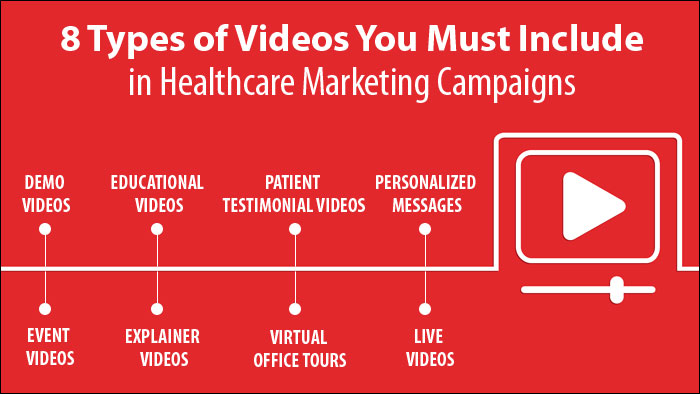 Showcase your products
Did you know? 74% of people were convinced about downloading an app or software, watching a product video.
Such videos are a great way to showcase your product without sounding too promotional. If you deal in a physical product, a video is a great way to create awareness among consumers.
Today, customers no longer want to be sold to; they want to be educated. A video can quickly cover all the points, advantages, features, and functionality of a product in an easy-to-digest way. This effectively facilitates customers' buying decisions and simplifies sales.
Explain how
Internet users often seek information on how to do something. They prefer online tutorials and explainer videos over contacting customer service. Brands can utilize this practice by providing their target audience with relevant and informative videos.
Since viewers retain 95% information when they watch a video, they prefer learning about brands, products and services through audiovisual content over written text.
Thus, if you have a service, a new product or changes in the company policies, you need to communicate with customers and leads, video is an excellent way to grab their attention and engage them. On the one hand, you are promoting your product; on the other hand, you are establishing trust.
Humanize your testimonials
Using testimonials on one's website or social media handles to establish their expertise and goodwill in the industry is a common practice. Whenever we use a service or a product, we are requested to put a review. This helps other prospects and leads to develop a healthy opinion of the brand in concern.
But what if you could amp it up a little? By adding videos of real customers instead of written paragraphs, you are adding a face to the user experience you are trying to showcase. People relate more to physical appearance than a cold text.
Thus, by interviewing real customers, you can increase the authenticity and impact of the testimonials.
Add a personal touch
Attracting customers is indeed one of the most essential parts of a business, but another unavoidable part is to retain them. Customer loyalty can help a brand reach new horizons since there is no better way to promote your business than word of mouth.
However, for your customers to talk about you and recommend you to their connections, you have to impact them significantly. It doesn't happen merely by providing good service. You have to develop a strong relationship with your customers.
One of the best ways to do that is by introducing your staff and company as a family. A personal touch goes a long way. So, try to create small videos introducing yourself, your work process, and your staff's experience. This not only engages customers but establishes an identity for your company as well.
Share your expertise
You might have seen tycoons and industry leaders getting interviewed by newspapers and magazines. Did you know that often, it's their PR team that organizes these interviews? Interviews are a great way to introduce yourself and establish your authority in the industry.
You can use videos to deliver commentary on industry news or offer details about the market condition etc. By sharing your experiences or quoting a few tips, you can come through as an expert and enhance your brand's goodwill.
How to reach out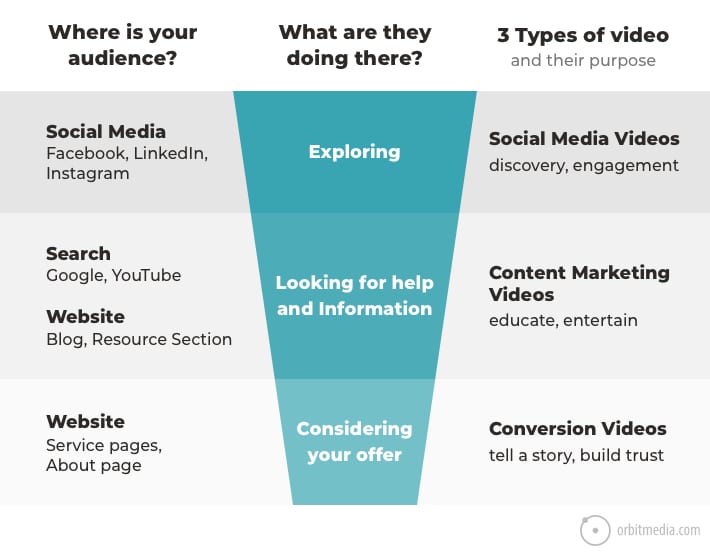 Now that we are through with the video marketing ideas, let's check out some practical ways to reach out to your prospects and target audiences and increase the views on your videos:
Website
The one thing that you can control in this digital world is how you portray your brand through your website. It is essentially the identity of your business. To help visitors develop a clear and transparent idea about your brand, embed engaging and informative video content on your website.
YouTube
We have already stated that YouTube is the most popular video-sharing platform. Publish your videos on YouTube and tie it back to your website. However, you must be consistent and careful about YouTube guidelines to get the desired results.
Facebook
Facebook gives you the liberty to post videos that are up to 45 minutes long. However, the most-watched videos are 44 seconds long or less. Therefore, be careful about the timeline. You can post on your page and also exploit groups to promote your business.
Instagram
Visitors also engage themselves by watching videos on Instagram. However, the length of the videos must not exceed 60 seconds. You can add location, create captions, and tag others in your Instagram post to increase the relevancy and outreach.
Pro Tip: to make sure your audiences hit play on your video, always keep the title simple and straightforward and avoid click-bait altogether.
Prefer reading: Turn social media followers into profit in 5 steps
Wrapping up
Traditional marketing is failing as we are shifting to the physical to the digital paradigm. Businesses need to get smarter to sell more effectively and stay ahead of the curve.
Promoting your business using video is a comparatively new approach, but there is no doubt regarding its success. So without any more pondering, start creating engaging content and watch your business boom.