Key Trends Shaping the Nematicides Market
The report "Nematicides Market by Type (Fumigants, Carbamates, Organophosphates, Bionematicides), Mode of Application (Fumigation, Drenching, Soil Dressing, Seed Treatment), Nematode Type (Root Knot, Cyst), Crop Type, Form, and Region - Global Forecast to 2025" The global nematicides market size is estimated to be valued at USD 1.3 billion in 2019 and is expected to reach a value of USD 1.6 billion by 2025, growing at a CAGR of 3.4% during the forecast period. Factors such as the growing demand for biological products and increasing number of product launches catering to the requirement of crop-specific nematodes drive the growth of the market.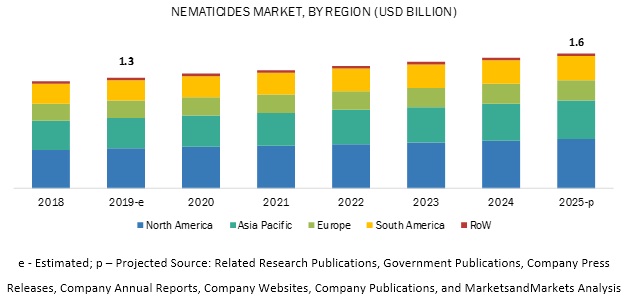 Download PDF Brochure: https://www.marketsandmarkets.com/pdfdownloadNew.asp?id=193252005
By type, bionematicides are projected to be the fastest-growing segment in the nematicides market during the forecast period
With the increasing awareness among consumers about the importance of organic foods, the adoption of sustainable agriculture and integrated pest management solutions has increased. This has led to the demand for biocontrol products such as pheromones, biofungicides, biopesticides, and bionematicides. A number of major players in the market such as Marrone Bio Innovations (US) and Valent BioSciences (US) are introducing bionematicide solutions for seed treatment. These factors have paved the way for the high growth rate in the bionematicides market.
By crop type, vegetables are projected to dominate the nematicides market.
The vegetables segment is projected to hold the largest market share owing to the increasing cases of infestation on vegetables such as potatoes, tomatoes, peas, cauliflower, and carrots, by nematode species such as root-knot, lesion, and cyst nematodes. The increasing acreage being brought under vegetable cultivation and the growing demand for organic vegetables drive the growth of this segment.
Make an Inquiry: https://www.marketsandmarkets.com/Enquiry_Before_BuyingNew.asp?id=193252005
North America to be the largest market for nematicides during the forecast period.
The region is a host to some of the major players in the nematicides market such as BASF SE (Germany), Bayer AG (Germany), Syngenta (Switzerland), and Nufarm Ltd (Australia) who actively invest on new product launches that would cater to nematode attacks on field crops such as soybean, corn, and cotton which are majorly produced in countries such as the US and Mexico. The acreage which is being brought under field crops is growing due to increased international and domestic demand for these field crops. The adoption of genetically modified seeds has also increased the cases of nematode infestation on crops such as soybean and corn, thereby driving growth in the market.
Some of the major players operating in the nematicides market include Bayer AG (Germany),  Syngenta Crop Protection AG (Switzerland), Corteva Agriscience (US), BASF SE (Germany), Adama Agricultural Solutions Ltd (Israel), FMC Corporation (US), Nufarm (Australia), UPL Limited (India), Isagro Group (Italy), Valent USA (US), Chr. Hansen (Denmark), Certis USA LLC (US),  Marrone Bio Innovations (US), American Vanguard Corporation (US), Crop IQ Technology (UK), Real IPM Kenya (Kenya), Horizon Group (India), Agri Life (India), Crop IQ Technology Ltd (UK), and T. Stanes & Company Limited (India).