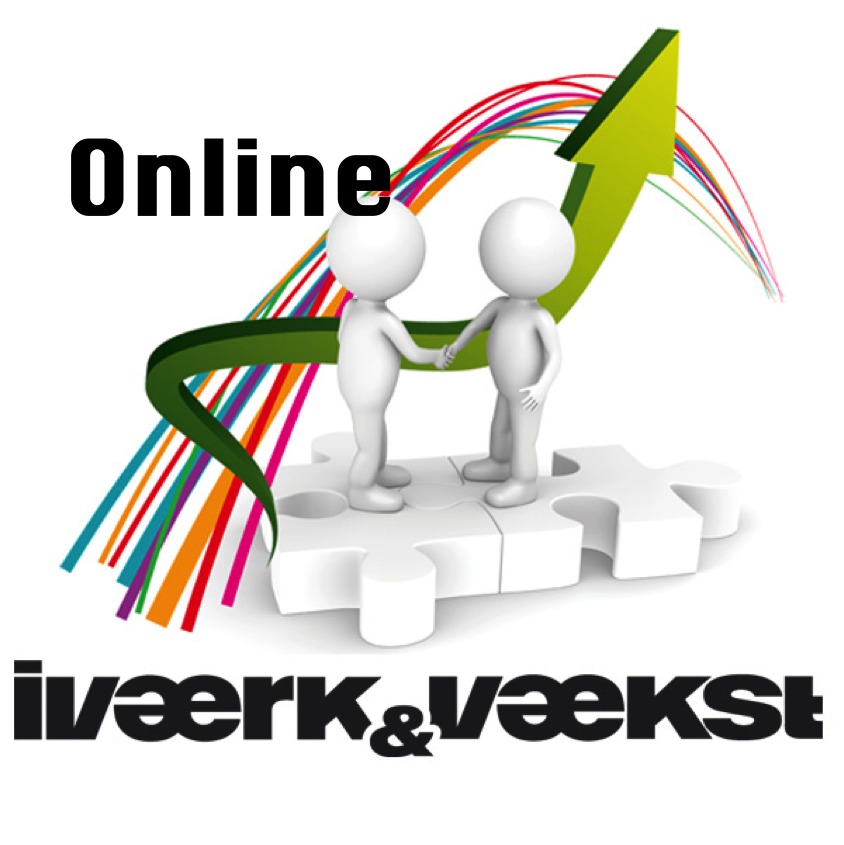 November 9, 2017 - November 22, 2017
#iværksætteri #entrepreneurship
Exhibitors

69

Visitors

47

Products

75

Recommendations

18
Velkommen til Iværk&Vækst Online 2017
Iværk&Vækst udvider i 2017, da vi gerne vil give HELE Iværksætterdanmark en endnu større mulighed for at mødes, udveksle erfaringer, finde investorer, samarbejdspartnere, nye medarbejdere og meget meget mere. På Iværk&Vækst Online her på FeedsFloor kan du derfor både før, under og efter den fysiske messe, møde og få et overblik over udstillerne fra messerne, som er en del af det fantastiske iværksættermiljø i Danmark.
Med Iværk&Vækst Online bringer vi Iværk&Vækst ud til alle kontorer, stuer, garager, skoler, caféer o.lign., hvor end spirerende og eksisterende iværksættere sidder lige nu. Her kan du nemt få et nemt overblik over udstillerne og deres produkter og ydelser både før, under og efter messen. Derudover, kan du når Iværk&Vækst Online er LIVE fra 9 - 22 november chatte og stille spørgsmål direkte en-til-en til udstillerne, sætte møder i stand og udveksle yderligere informationer. Da Iværk&Vækst Online er åbent (LIVE) indtil d. 22 november, betyder det også, at du har mulighed for at stille opfølgende spørgsmål til udstillerne efter den fysiske messe.
Besøg Iværk&Vækst Online 2017
1) Log in eller opret en personlig eller virksomhedskonto. Det er helt GRATIS.
2) Klik på VISIT her på siden for at se udstillernes profiler, produkter, ydelser, nyheder og videoer og kontakte udstillere. Derudover, kan du holde dig opdateret med nye ting, som sker på online messen.
3) Når messen er LIVE, kan du chatte direkte en til en med udstillerne ved at klikke på chat ikonet.
Udstil din virksomhed/organisation
Kontakt venligst info@ivaerk.dk for at få mere at vide om pakkepriser og om hjælp til at udstille på Iværk&Vækst Online. support@feedsfloor.com hjælper også gerne med at udstille din virksomhed bedst muligt på Iværk&Vækst Online messerne.
------ ENGLISH -------
Welcome to Iværk&Vækst Online 2017
Iværk&Vækst is expanding in 2017, as we would like to give all of entrepreneurial Denmark even greater opportunities to meet, exchange knowledge, find investors, partners, new employees and much more. At Iværk&Vækst Online here at FeedsFloor, you can therefore during and after the physical event, meet, get an overview and chat with the exhibiting companies, which are all a part of the fantastic entreprenurial environment in Denmark.
With Iværk&Vækst Online we know bring Iværk&Vækst to you, to all the offices, living rooms, garages, schools, cafés etc., where aspiring or existing entrepreneurs are right now.
When Iværk&Vækst Online is LIVE from 9-22 November, you can chat 1-to-1, ask questions, set up meetings and exhance further information with exhibiting companies.
Visit Iværk&Vækst Online 2017
1) Log in or create a personal or company account. It is completely FREE.
2) Click here at VISIT to see the exhibitor profiles, products and services, news and video and to chat with exhibitors.
3) When the EXPO is LIVE, you can chat directly 1-to-1 with the exhibitors by clicking on the Chat Icon next to the exhibitor.
Exhibit your company
Please contact eva@ivaerk.dk to hear more about exhibiting.
For technical issues please contact support@feedsfloor.com.